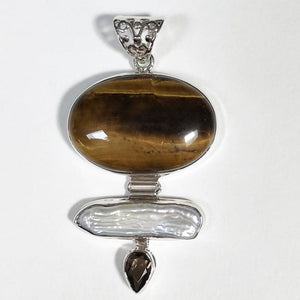 WOW This 2 1/2 by 1" Pendant, well, the pictures speak for themselves. The beautiful horizontal Tiger-eye is quite striking and is offset by the Freshwater Bewa Pearl and topped (bottomed) off by a Smokey Quartz teardrop accent stone. All set in Sterling Silver. Two swivel hinges keep it straight and make the facets twinkle. This pendant is heavier and the best chain to get it with is our Bali Chain for it's strength and it matches!
(Chain not included and is shown here for illustrative purpose only. Available for separate purchase. If you do not see it here, email us and will get you one.)
One of a kind. Will not be here long. Enuf' said.